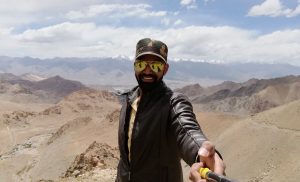 My name is Sandesh Jangam, and I wrote the easiest guide to start a website, so that you can start your website today!
I was lucky enough to get my first computer in my school days. Unfortunately, I started my online journey in 2014. I wish someone had told me it earlier.
I must say you are LUCKY! Because I will be sharing all my learning and knowledge on this website. You don't need to reinvent the wheel. All you have to do is follow my guides and save your valuable time.
Today, I am a successful WordPress developer with all the expertise. I know how to build a website from scratch and make it big. You will only find exactly what's worked for me.
Why TechieSandesh.com
Actually, a lot of my friends was asking me questions like:
How to build a blog?
How to make money from blog?
How to build a website?
How to sell product or service?
So, I started this website to help all those Non-Technical users to build their own website or blog. I am extremely passionate about helping people to get their blogs started.
Why? Because my blogs completely changed my life and I am sure it will changed your life too.
If you want to see more from me, follow me on